QMH are proud participants within our local community
Quarry Mining Haulage are proud to be an active participant within the local community providing support, assistance and sponsorship to local people, events and charities.
​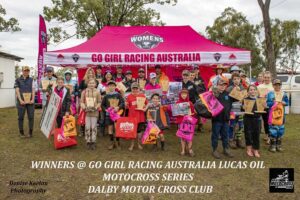 QMH are pleased to announce their support and sponsorship for the 2021 GGRA 5 Day Event at the Dalby Motocross Track on the 7th June 2021.
GGRA aim to support and promote the participation of women and girls in Australian Motocross.
A fun event for all ages, be sure to come and cheer the girls on!
2021 Campaign in Townsville
The Beefa Boars are a non-profit QPS Rugby League team made up of our finest boys in blue from the largest police region in Queensland.
Cheering the guys on in their 2021 campaign in Townsville, QMH are proud to be an honorary piglet for this years season.
QMH are proudly in the corner of current ABC QLD Batamweight and Flyweight Title Holder, Danya Cook.
Danya loves challenging the stereotypes. By day she is a white collar professional, working as a Town Planner. By night, she is in the shadows of a boxing gym training for her next fight.
With a goal to go Pro within the next 12 months, Danya loves competing and pushing herself to the next level.